2007-10-16: Spin
by Emily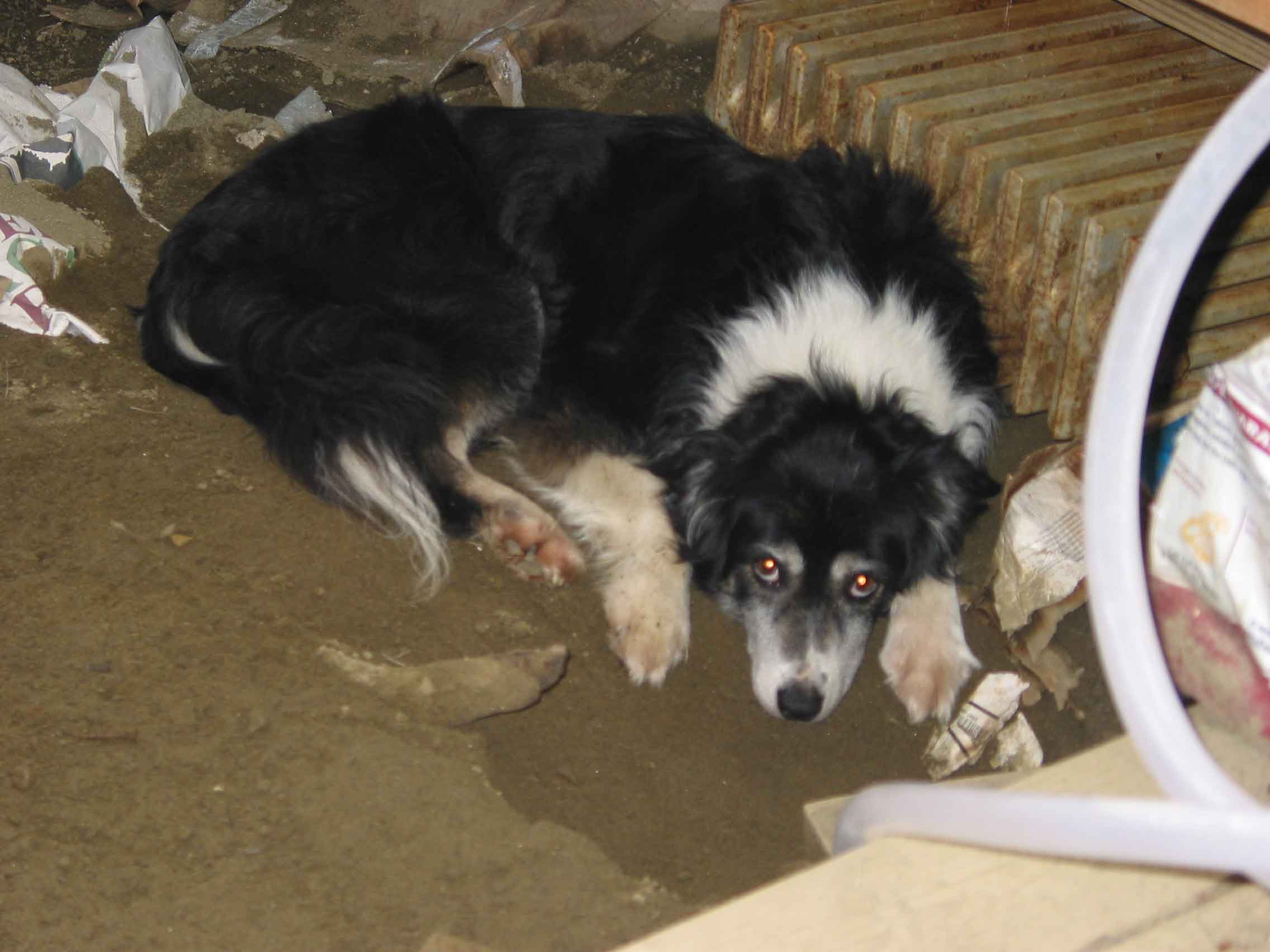 Yesterday, we said good bye to Spin.
Spin was Meg's sister Serena's border collie. She would have been 15 in January. Spin and Serena learned to herd sheep together, and they traveled all over the country: saving sheep from snow storms in North Dakota, doing search and rescue work in California. When we had just moved to Plainfield, all our sheep escaped. Spin and Serena rescued the sheep from where they were blocking traffic, with an 18-wheeler and a line of cars held at bay.
Spin had the most human eyes on a dog I've ever seen. She was smart and attentive, could practically read Serena's mind when they herded sheep together. She also had the biggest heart of almost any being I've met. She was gentle and kind and ready with a lick. And she would always come running when she heard people laughing.
Our household is a farm, with sheep, chickens and gardens. Serena built the house and barn with help from her family and community. She says that in many ways, having Spin in her life allowed her to do all of this: having Spin with her all those years kept her in connection with the farming life and inspired her to create our home as a beautiful, working country place.
Thank you, Spin, for living with us, and for all you gave us. You will be remembered long, with love.
---
2007-10-16 17:05:44 Ben Lehman
Good dog.
---
2007-10-16 17:07:48 Emily
Very good dog, indeed.
---
2007-10-16 23:31:01 Meguey
I can't help but wonder what poor Lou will do without her big sister dog. Lou is a few years younger, and always had a very clear sense of Spin as "lead dog", even when Spin could have cared less.
*Hugs* to all creatures great and small, who are a dog less at the farm tonight.
---
2007-10-17 04:56:14 Julia
Farewell, Spin. I'm glad I got to meet her.
---
2007-10-17 21:55:04 Gregor
So long, Spin. You'll be much missed.
Gregor
---
2007-10-18 01:48:22 Emily
Lou is missing her sister.
Thanks for the picture. Gregor.
---